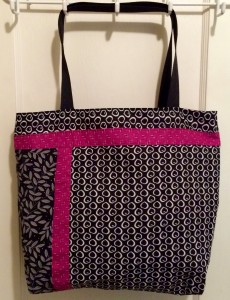 PFI Market Bag (Easy Sewing)
Please enjoy this sweet little market tote from Portland Fashion Institute.  Tested, tried and true from our lovely students at the Multnomah Athletic Club — who cut and sewed it in 3 hours flat.  It's perfect for a shopping tote, a handbag or as a gift.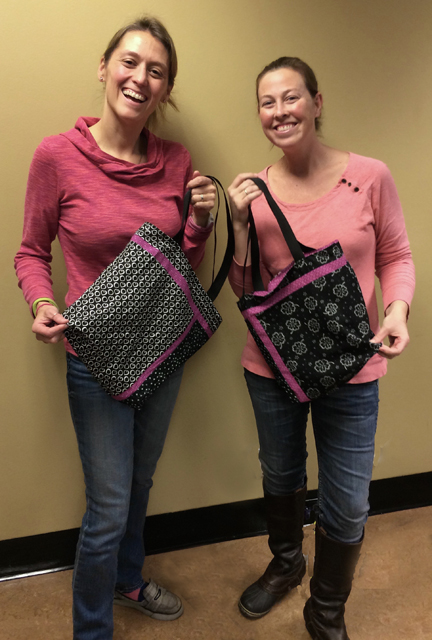 Here's what to do:
You'll need 5/8 yds each of three 45″-wide cotton fabrics, 1-1/2 yds of 1″-wide nylon webbing, thread plus your usual sewing tools.
Download the instructions for preparing your pattern.  Pattern prep
Download the pattern:  PFI Market Bag pattern
The pattern is all rectangles.  Don't want to download and prep the pattern?  Then cut fabric from this list of rectangles.  Sewing tip:  Use a rotary cutter and ruler on a self-healing mat.
Fabric 1. For outside big rectangle and top edge.
— Two pieces 2½" x 17" (top edge piece D)
— Two pieces 12½" x 11½"(outside big rectangle piece C)
Fabric 2. For sides and pockets.
— Two pieces 12½" x 4" (sides piece A)
— Four pieces 5" x 17" (pockets)
Fabric 3. For lining and front accent.
— Two pieces 12½ x 1½"(accent piece B)
— Two pieces 1½" x 17" (accent piece E)
— Two pieces 15" x 16" (lining)
4.  Download the instructions for cutting and sewing your fabric.  Sewing Instructions
5.  Enjoy!
Bonus: November 27-December 9. Bring this page to PFI and get 30% off your fabric for your PFI Market Bag!
Let us know if you have questions:  info@portlandfashioninstitute.com